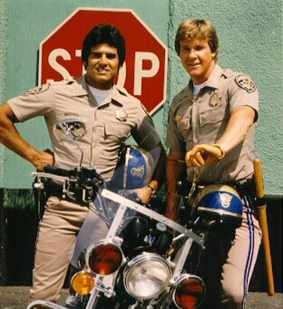 Last Friday I crawled into my car at 11:03pm half-dead and exhausted after an epic youth event. I reached for my cell and placed a phone call (Strike one!). I knew no one was at the stop sign so I casually paused and performed a California stop* (Strike two!). At the main boulevard I slowed down before making a right turn, but didn't make a complete stop at the red light. Since no one was there, it didn't matter, right? Wrong (Strike three!). While I was chatting [illegally] on the phone, I saw red and blue lights flashing and heard an ominous, Pull over to the side of the road, now! I hung up my phone and felt my stomach drop into the center of the earth. I prayed for mercy and grace as I thought of the impending ticket, insurance hike, and another point on my driving record.
A miracle of divine reciprocity occurred when CHP officer let me go without due punishment. In Mother Theresa
ish
fashion, I cupped his hand in mine and said,
God bless you, officer! God bless you,
swore I'd be a better driver, and thanked God for the grace He'd given (
Eph. 4:7
). In my hubris I thought I had learned my lesson and had changed my ways due to the lavishing of grace bestowed upon me. But when I was pulled over on Sunday afternoon for speeding, I was completely taken back because there was
no
way I had been speeding in a
15-passenger van?!
I clocked you going 84 miles per hour, m'am. I didn't even know a 15-passenger van could go that fast. I apologized again and handed him my license and registration on cue. I already knew the routine.
I was embarrassed and humiliated that I had once again broken the law. I promised. I vowed. I swore I had changed my evil ways. But like
Peter
warns, I had been free from the things that defiled me through knowledge in Jesus Christ, but once again I had been overcome by sin. It's now worse this time because I knew I had been given grace, yet sinned
again
. Woof woof, oink oink, people. I'm the dog who returned to her vomit and the pig who returned to the mire (
2:20-23
). I knew the law, I sinned, I deserve punishment. But we all do.
A miracle of divine reciprocity occurred in the form of a human man who willingly took our punishment for our error and sin (
1 John 4:9
). We should be
guilty
, but we are free. What do you do with this grace? Without realizing it, I had mingled in mud and slurped my vomit after drinking freely of grace. But here's the good news: Grace doesn't run out. If you have tasted grace and gone back to your vomit, you can come back and be forgiven. How do I know this? Theologically:
1 John 1:9
. Practically: The officer walked to the window, handed me my license and registration and said,
The Lord works in mysterious ways.
*Why is it called a "California stop" if you can't do it in California?!